The team at Advocate Law are passionately committed to offering practical legal solutions to our clients that match their business and personal situations.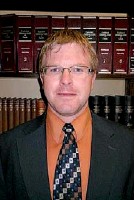 Estes completed his Bachelor of Administration and Masters of Business Administration from the University of Regina, focusing on accounting and finance. He obtained his Bachelor of Laws from the University of Saskatchewan in 1998 and has practised with both the Provincial Government and a large financial institution prior to opening his own firm.
He has extensive experience appearing before all levels of court in Saskatchewan for criminal, family and civil matters. In addition he is a former agent for the Attorney General of Canada, conducting federal prosecutions and has acted for two federal candidates as their legal adviser. Estes was admitted to the Saskatchewan Bar in 2001 and has practised throughout the province appearing in Provincial Court, Court of Queens Bench, and the Court of Appeal.
Estes is also active in the community having had involvement with the YMCA, Shrine Club, former President of the Moose Jaw Bar Association, member of the Saskatchewan Trial Lawyers Association, Moose Jaw Businessman's Club, and a member of the Chamber of Commerce. He has also volunteered with Habitat for Humanity and the Humane Society.